If you're like most people, you enjoy spending time outdoors camping with your family and friends. What's not to love? There's something about being in nature that is so relaxing and refreshing. But before you hit the open road, there are a few things you need to take care of. One of the most important is making sure your travel trailer is secure. That's where wheel chocks come in! This blog post will discuss the best wheel chocks for travel trailer and how to use them safely and effectively.
Best Wheel Chocks For Travel Trailer
BAL X-Chock Tire Locking Wheel Chock
The BAL X-Chock Tire Locking Wheel Chock is one of the best wheel chocks for a travel trailer. It is used to level and stabilize a trailer or RV when parked. It is placed between the RV wheels of the trailer, and the leveling jacks are then used to raise or lower the trailer until it is level.
The X-chock can then be tightened to keep the trailer from moving. This is a great way to prevent accidents when your trailer is parked on uneven ground. The BAL X-chocks wheel stabilizer is also great for high wind conditions.
When the wind blows, it can cause trailers and RVs to rock back and forth. This can be dangerous, and it can also damage the structure of the trailer or RV. The X-chock will help to keep the trailer or RV from moving so that it doesn't get damaged by the wind. If you want to level and stabilize your trailer or RV, then the BAL X-chocks wheel stabilizer is a great option.
WHAT WE LIKE:
The BAL X-Chock Wheel Stabilizer is easy to use.
Made of high-quality materials.
Designed to fit most travel trailers.
Comes with a storage bag.
Tandem wheels chock.
WHAT WE DON'T LIKE:
Difficult to remove from the tires.
It can not be used on single axle trailers
It would be hard to use if the tires are too close together
Solid Rubber Heavy Duty Black Wheel Chock
These Solid Rubber Heavy Duty Black Wheel Chock are placed behind your vehicle's tires to keep it from rolling forward or backward when you are not in it. They are made of a solid piece of durable rubber that will last many years. The RV wheel chocks have a black finish that will not show dirt or marks easily. Each pack has two chocks so you can place one behind each tire.
WHAT WE LIKE:
Perfect for heavy-duty loads.
It is crush resistant.
One of the most popular and affordable wheel chocks on the market.
Made of high-quality materials and is designed to last.
Easy to use and can be installed in minutes.
Comes with a lifetime warranty.
Can surpass tearing, abrasion, and weathering.
WHAT WE DON'T LIKE:
It has a strong rubber smell.
Camco 44414 Wheel Chock
Camco 44414 Wheel Chock is an easy-to-use, easy-to-store way to chock your RV's wheels. This product is designed to keep your RV safe and steady while parked. It is made of durable HDPE and has a UV inhibitor that helps protect it from the sun's rays.
The Camco wheel chock has a built-in handle that makes it easy to carry and store. A reflective strip also makes it easy to see in low light conditions. It is placed behind the rear tires and in front of the front tires.
Once the chock is in place, it will help to prevent your RV from moving when you are not using it. The chock is made of durable plastic that can withstand the weight of your RV. It is also easy to clean and maintain. The chock comes with a one-year warranty.
WHAT WE LIKE:
It fits most 14″-16″ wheels.
Keeps your trailer in place.
Sturdy and durable.
Easy to use.
Affordable than other travel trailer wheel chocks.
WHAT WE DON'T LIKE:
Some users have reported that this Camco RV wheel stop slips on wet or icy surfaces.
EPOARTIST RVTW200 Camper Wheel Chock
EPOARTIST RVTW200 Camper Wheel Chock is a heavy-duty wheel chock designed to keep your camper securely in place.
The chock is high-strength steel and features a powder-coated finish for durability. It also has a built-in turning handle for easy maneuvering, and the chock can be chained to your camper for added security.
The chock has a weight capacity of 200 lbs, making it ideal for use with RVs and trailers. It is also easy to assemble and mount, so you can set it up and be ready to use in no time.
WHAT WE LIKE:
It is easy to install.
Provides two pieces in one pack.
Made with high-quality steel materials.
Rust resistance.
WHAT WE DON'T LIKE:
Extra tight applications may not be possible.
What Is RV Wheel Chock?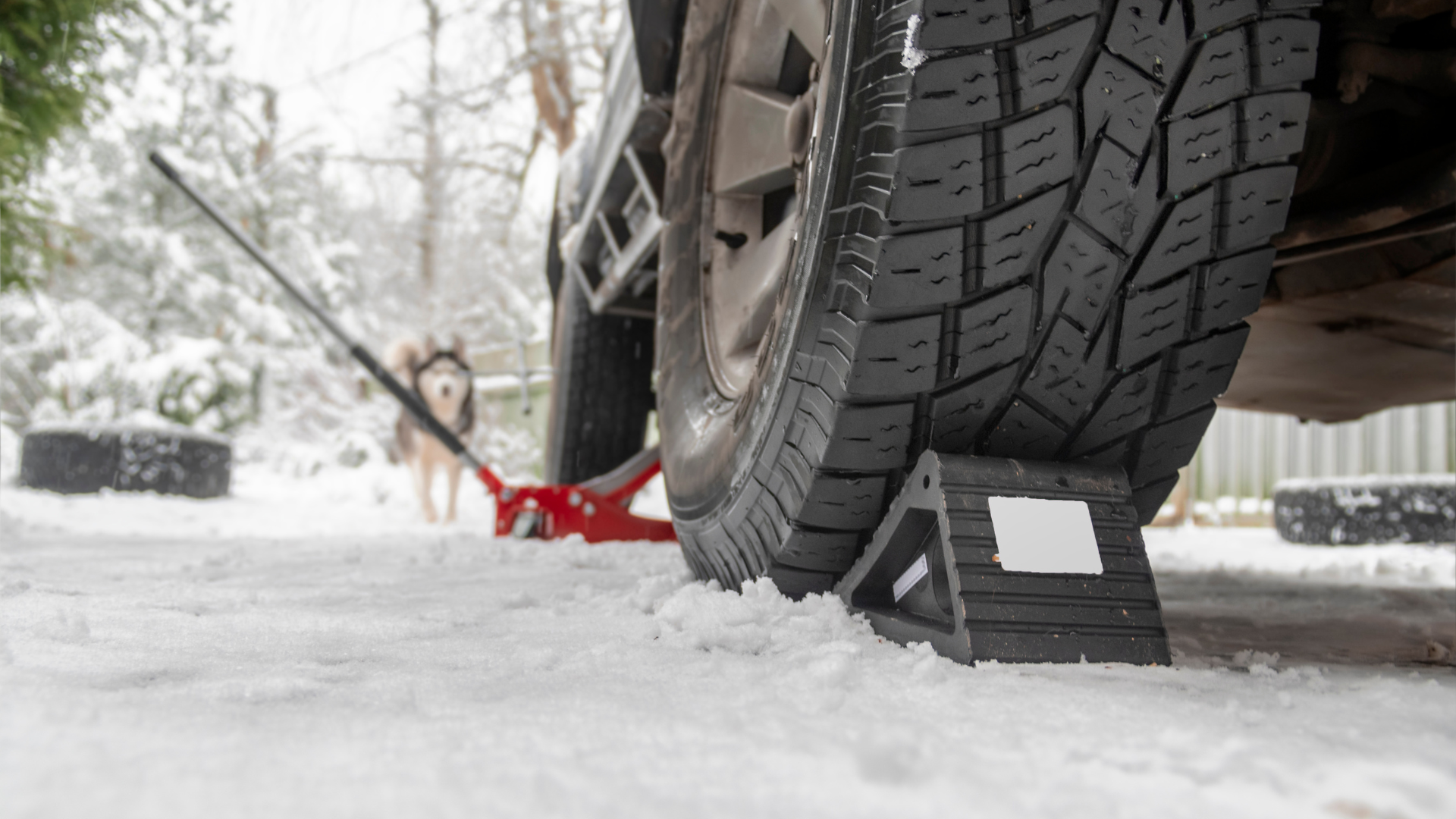 If you own an RV, you've heard of wheel chocks. But what are they, and why are they important? Wheel chocks are devices placed under a vehicle's wheels to prevent it from moving.
They are often used with jack stands to keep an RV from rolling while servicing. RV chocks are especially important when working on tandem tires, as they help to prevent the RV from tipping over.
In addition to preventing accidents, wheel chocks also help to keep your RV level while it is parked, making it more comfortable to walk around inside. So if you're not already using them, be sure to pick up a set of wheel chocks for your next RV trip.
Types OF RV Wheel Chocks
X-Chocks
One type of wheel chock is the X-Chocks. These chocks are designed to fit snugly against the tires and have a cross-shaped design that helps stabilize the RV. X-Chocks also have the added benefit of being easy to install and remove, making them a convenient option for those who are frequently moving. However, one downside of X-Chocks is that they are not always compatible with all types of tires.
Block Style Chocks
These chocks fit over the tire and block it from moving. Block style chocks are more universal in their design and can be used with most types of tires. They can be more difficult to install and remove than X-Chocks.
Traditional Wheel Chocks
Traditional wheel chocks are made of wood or metal and placed behind a vehicle's wheels to keep it from rolling. However, these traditional chocks can be heavy and difficult to maneuver, making them less ideal for use with RVs.
In addition, traditional wheel chocks are not always effective at keeping an RV in place, particularly on slippery surfaces. For this reason, many RVers prefer to use another type of wheel chock, such as those made of foam or plastic.
These materials are much lighter and easier to handle, providing a more secure grip on the ground. They can better keep an RV stationary, even on uneven or slippery surfaces.
The Advantages Of Wheel Chocks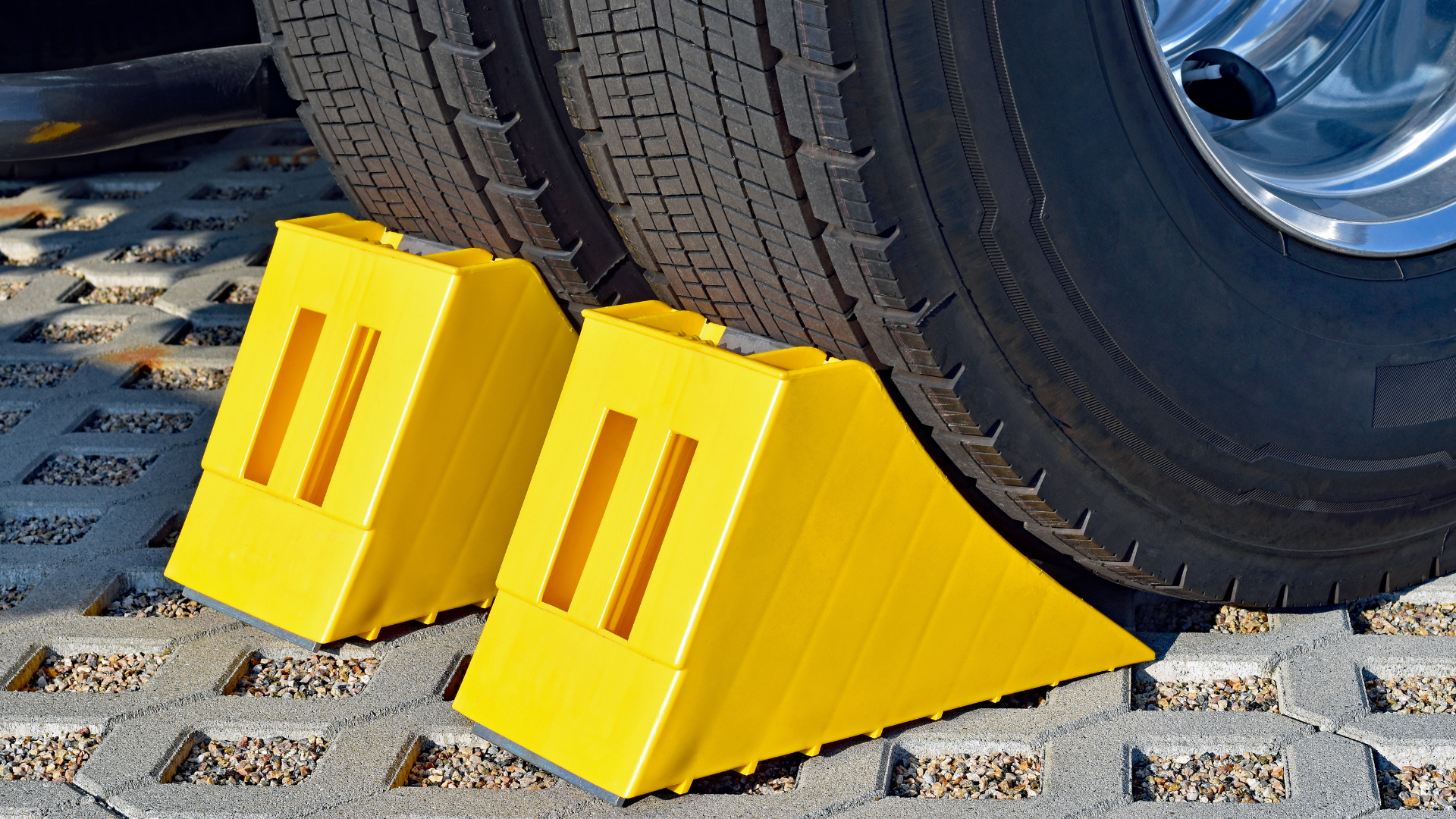 Wheel chocks are an essential safety device for any vehicle, whether a car, truck or trailer. Here are some of its advantages:
They help prevent the trailer from rolling away, even if it's not adequately secured.
If the trailer rolls, they can help stop it from causing damage to other vehicles or property.
They're relatively inexpensive and easy to find. You can purchase them at most hardware or RV stores.
Wheel chocks are easy to use and can be installed in minutes. They are also very durable and can last for years with proper care.
The Disadvantages Of Wheel Chocks
While they are effective at preventing a vehicle from moving, there are some potential disadvantages to using wheel chocks. Here are some of them:
If you are not careful, wheel chocks can be very difficult to remove once they are in place. This can be a serious problem if you need to move your trailer and the chocks prevent you from doing so.
It can be a tripping hazard. If they are not placed properly, they can easily be knocked over, which could cause someone to trip and fall.
It can damage your tires if they are not used correctly. If the chocks are too tight, they can cause the tires to rub against them, eventually leading to a blowout.
Factors To Consider When Buying Wheel Chocks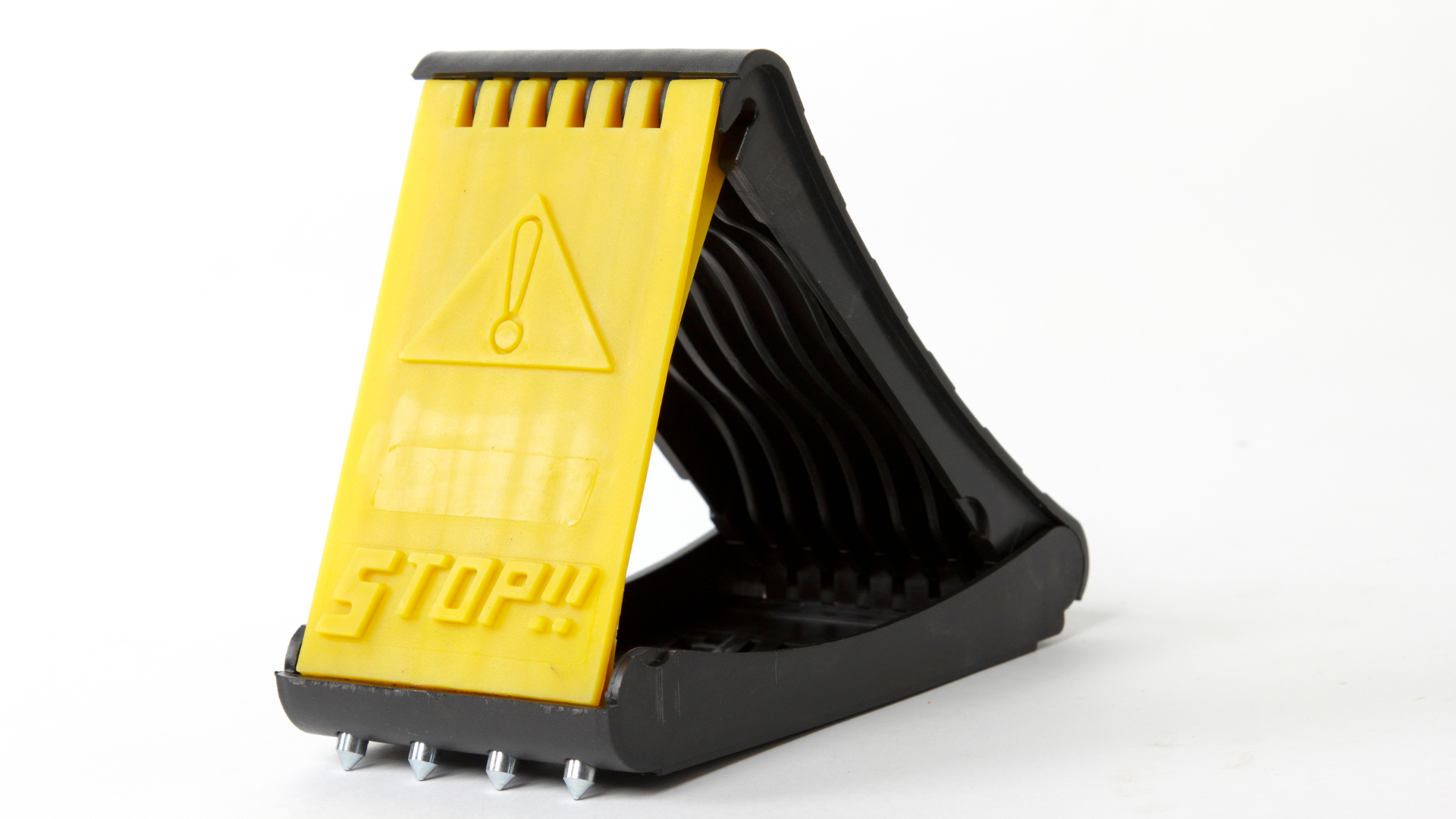 Size
Size is an important consideration when choosing wheel chocks for your travel trailer. If the chocks are too small, they will not be effective in preventing the trailer from rolling. On the other hand, too large may make it difficult to move the trailer when needed.
The best way to ensure that you get the right size chocks is to measure your tires before you shop. That way, you can be sure that the chocks you choose will be able to provide a secure hold.
Durability
Regarding RV tire chocks, durability is an essential factor to consider. Unfortunately, many chocks on the market are made from cheap materials that break down quickly.
This can be frustrating and even dangerous, as a broken chock may not be able to provide the support needed to keep your trailer in place. To avoid this, look for chocks made from high-quality materials such as heavy-duty plastics or metal.
These will be more expensive than their lower-quality counterparts, but they will also last much longer. In addition, make sure to read reviews before making a purchase. This will give you a good idea of what others have experienced with a particular chock type.
Grip
Wheel chocks are designed to provide a stable base for your trailer when parked, and they need to be able to grip the ground firmly to be effective.
The material of the chock is essential, as is the design. Some chocks have spikes or teeth that help them to grip the ground, while others have a more blunt design.
Convenience
When buying rubber wheel chocks for your travel trailer, convenience is a factor you'll want to consider. After all, the last thing you want is to be fumbling around with chocks that are difficult to use when you're trying to park your trailer.
Look for rubber chocks that are easy to apply and remove from your trailer's wheels. You should also ensure they're lightweight and easy to store when not in use.
Stability
You want your trailer to be secure when it's parked, and you don't want the chocks to slip or move while trying to level the trailer. A few things can affect the stability of wheel chocks, so it's essential to do your research before making a purchase.
Material
Wheel chocks are typically made from either rubber or plastic. Each material has its advantages and disadvantages. Rubber chocks are generally more durable and provide better grip, but they can be more difficult to clean and store. Plastic chocks are lighter and easier to handle, but they may not provide as much grip and wear down over time.
Price
When choosing the right wheel chocks for your travel trailer, price is certainly a factor to consider. After all, you want to find a product that is both affordable and effective.
However, it is essential to remember that the cheapest option is not always the best. In many cases, it is worth paying a little extra for a durable product that will last many years.
That said, there are a few things to remember when comparing prices. First, take into account the size and weight of your RV tires. Consider the material that the chocks are made from.
Think about how often you will be using the chocks and whether or not you need a model that can be easily stored. By considering all of these factors, you can be sure to find a set of wheel chocks that meets your needs without breaking the bank.
Wrapping Up
In conclusion, wheel chocks are an important part of any trailer's safety system. They help keep the trailer in place, even in strong winds or uneven surfaces. They are also an essential component of any emergency braking system.
Wheel chocks come in various sizes and materials, so choosing the right type for your trailer is essential. Read the manufacturer's instructions carefully to ensure you use the chocks correctly. Your wheel chocks will provide years of reliable service with proper care and maintenance.
You Might Also Want To Check These Out